Helping you enjoy your extra living space all year round
Some conservatories can be like an oven in summer and a fridge in winter. But, with the right blinds, you can control these extremes of temperature – and enjoy your conservatory whenever you want.
Find out more about how Luxaflex® Duette® and Plissé Shades can help you make your conservatory a comfortable place to enjoy all year round..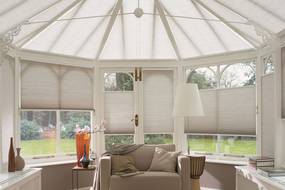 Energy-saving Conservatory Blinds
Duette® Shades, invented by Hunter Douglas, give you the best of both worlds; helping you keep out the heat in summer and keep it in during the colder winter months. In fact, they so effective at retaining warmth, you may not have to switch your heating on as much – and you could reduce your heating bills.
How Duette® Shades works in your conservatory
All Duette® Shades have a unique honeycomb structure which is specially designed to trap air inside and provide excellent insulation when you need it most. Duette® fabrics can also be treated with an exclusive coating which reflect as much as 78% of heat back out of your home – helping you keep cooler in summer.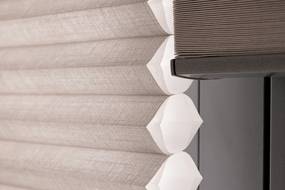 Pleated Conservatory Blinds
Enjoy instant control of light, shade, temperature and privacy with a smart, tailored pleated design which can be opened and closed quickly and simply. Pleated Conservatory blinds also have a slim line design which doesn't encroach on your view – giving you a full panorama.
Pleated Fabrics PLUS that little bit extra
Topar® Plus is a special fabric coating which effectively reflects warmth and sunlight but will not affect the depth and richness of your Plissé Shade's colour. This makes it ideal for Shades which will be fitted in conservatories or other rooms with large panes of glass.
Special finishes
Fabrics specially coated with Luxaflex® Dustblock® are anti-static and actively repel moisture and dirt. This makes them especially easy to clean and keep in pristine condition – looking stylish and vibrant for years to come.
Stylish textures and an exquisite palette of colour
Conservatory blinds don't have be conservative when it comes to style. Our Duette® or Plissé Shades are available in a wide range of elegant patterns, rich and tactile textured weaves and a complete range of transparencies – so you can find your own perfect balance of light, privacy and stunning design.
Special shapes and high roof windows
Every conservatory and window is professionally measured and expertly made to measure, so even the most unusual shapes, slopes and individual sizes can be successfully tackled. Your local Luxaflex® showroom will give you all the help you need.
Easy to operate – whatever the size
No matter how large your conservatory, you will be able to open and close your Duette® or Plissé Shades with a simple remote control or wall switch. Or, you can choose a child-safe hand operated system…it's up to you – but either way, you'll be able to enjoy a simple way to adjust light and privacy. Your local Luxaflex® showroom will be happy to help you find which option suits you best.
Visit your local Luxaflex® showroom to learn more and get expert advice